NOW rehomed to the lovely Kim with Henry and Lucky
Ebony, female, lovely silky black fur coat, approx 2-3 years old. She has a great mum to all her kittens that got rehomed. Now it's her turn.
She has been vaccinated, chipped, wormed, de-flead and spayed.
Ebony did go to her new home, where she settled in well and spend most of the days cuddled up on her new mums' lap. unfortunately, through know fault of her own she had to come back to PCLT as her owners became very allergic to her. They were both very upset and crying when they brought her back. PLEASE DON'T LET HER WAIT SIX MONTHS AGAIN, just because of her colouring.
This gorgeous little girl loves a cuddle and a fuss and just likes to sit on your lap. She wants a happy and forever home to go to. You can see her in these videos
https://youtu.be/-3_G9YR3tyY
quietly accompanying a visitor around the group pen; then with her kittens.
https://youtu.be/Mw3vOnM5Sro
and
https://youtu.be/Avo_YyMzbFA
PLEASE LISTEN TO THIS VIDEO: Black velvet Ebony the perfect all round family pussycat:
https://youtu.be/g5q55MPNJVs
For more information please call terry on 07947664539 Mon - Sun between 9am-6pm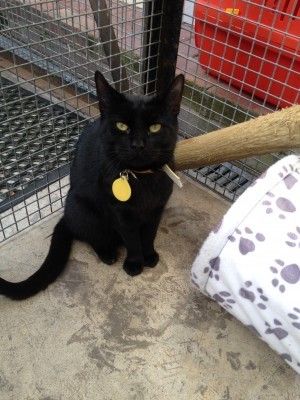 ---